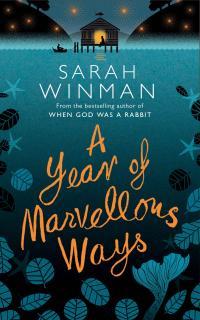 A Year of Marvellous Ways by Sarah Winman
Published: 18th June 2015
Available in Hardback and on Kindle
Cornwall, 1947. Marvellous Ways is a ninety-year-old woman who's lived alone in a remote creek for nearly all her life. Recently she's taken to spending her days sitting on the steps of her caravan with a pair of binoculars. She's waiting for something - she's not sure what, but she'll know it when she sees it. Freddy Drake is a young soldier left reeling by the war. He's agreed to fulfil a dying friend's last wish and hand-deliver a letter to the boy's father in Cornwall. But Freddy's journey doesn't go to plan, and sees him literally wash up in Marvellous' creek, broken in body and spirit. When Marvellous comes to his aid, an unlikely friendship grows between the two. Can Freddy give Marvellous what she needs to say goodbye to the world, and can she give him what he needs to go on?
"A Year of Marvellous Ways" has been a book which seems to have received a lot of praise in the blogging world so I was eager to see for myself what this book was all about.

This book has been portrayed as "Magical Realism" and is not something I would normally read but I found it an utterly beautiful and emotional read.
The book is told from two perspectives, 89 year old Marvellous Ways an old lady whom the book is named after who spends her days alone in a remote Cornish creek until she meets Drake a young man set on a journey to complete a dying man's wish. When the two meet their lives slowly become more and more entwined.
Firstly, if you read this book please don't rush through it, the writing has a truly magical quality which I feel is best savoured over a longer period. The chapters are fairly short, some just a couple of pages so it is perfect to spread out which I did over a fortnight, which is a long time for me to spend on one book. I found the writing style descriptive, very poetic and utterly beautiful.
The two main characters got to me straight away, the sense of grief and loss which these two have experienced in their lives jumps of the page and pulls at your heart strings. They are both searching for that special something to help anchor them and give them hope.
This a very special book which I feel can help us all see the good in the little things and I know is a book that will sit treasured on my shelf for many years. I am definitely going to read Sarah's other novel "When God was a Rabbit" very soon in the hope that it has the same magical quality as "A year of Marvellous Ways"
Thank you to bookbridgr for sending me a copy to review, I would rate this book 4/5.