It's been quite a while since I did a release day post and there have been some brilliant books released which I've missed so I thought it was time to get back into sharing my weekly favourites. This week I have chosen a real mix of books including new and old authors and a mixture of genres.
The One and Only by Emily Giffin
Released: 29th January 2015
Publisher: Hodder & Stoughton
Pages: 400
Available in Paperback and on Kindle
Thirty-three-year-old Shea Rigsby has spent her entire life in Walker, Texas - a small college town that lives and dies by American football, a passion she unabashedly shares. Raised alongside her best friend, Lucy, the daughter of Walker's legendary head coach, Clive Carr, Shea was too devoted to her hometown team to leave. Instead she stayed in Walker for college, even taking a job in the university athletic department after graduation, where she has remained for more than a decade.

But when an unexpected tragedy strikes the tight-knit Walker community, Shea's comfortable world is upended, and she begins to wonder if the life she's chosen is really enough for her. As she finally gives up her safety net to set out on an unexpected path, Shea discovers unsettling truths about the people and things she has always trusted most - and is forced to confront her deepest desires, fears, and secrets.
I'm a huge Emily Giffin fan so super excited to read her latest book, just hope there isn't too much football talk in it as I'm not a sports fan at all.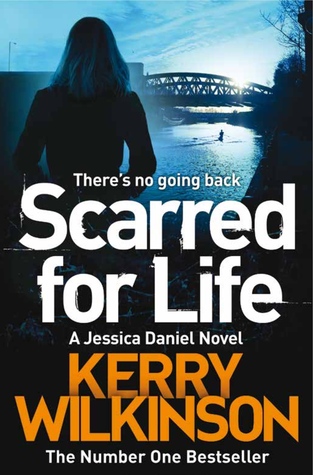 Scarred for Life (Jessica Daniels #9) by Kerry Wilkinson
Released: 29th January 2015
Published: Pan Macmillian
Pages: 300
Available in paperback and on Kindle
DI Jessica Daniel is not having a good week. Her wallet's been nicked, the refurbished incident room is already falling apart, and a new football-mad constable is driving her crazy.

She also has bigger things on her mind. A student's body has been dumped in a wheelie bin at the back of a university building, with a vague link to an Olympic medallist and a theory that it could have been an induction which went wrong.

There's the tattooed shop raider who has her team stumped; someone attacking lone women; a chief inspector who seems to have a problem with her; and someone putting letters through her front door insisting that she's caught 'the wrong man'.

Worlds are colliding for Jessica - and, if she's not careful, someone close to her might not make it out in one piece.
I can't believe its time for another Jessica Daniel book already! I read the eighth (and my first) book back in September and I was hoping to go back and start the series from the beginning before the next one. Sadly this hasn't happened but I'm actually really looking forward to getting stuck into the next one and finding out more about Jessica.
As Good As It Gets by Fiona Gibson
Released: 29th January 2015
A warm, funny read for fans of Outnumbered and the novels of Fern Britton, Fiona writes about life as it really is.


"Midlife crisis? WHAT midlife crisis?!"


Charlotte Bristow is worried about her husband Will. With her 16-year-old daughter Rosie newly signed to a top modelling agency, and Will recently out of a job, things are changing in their household.


As Will dusts down his old leather trousers and starts partying with their new, fun neighbours, Charlotte begins to wonder what on earth is going on.


So when Fraser, Charlotte's ex – and father of Rosie – suddenly arrives back on the scene, she starts to imagine what might have been…
Surprisingly I have yet to read anything by Fiona Gibson, although I just know from reading the blurbs I will love them. I have finally found my kindle charger so am going to start reading this tonight, look out for a review in the next couple of weeks
The Ties That Bind by Erin Kelly
Released: 29th January 2015
Publisher: Hodder & Stoughton
Available in Paperback and on Kindle
Could a soul, once sold, truly be redeemed?

Luke is a true crime writer in search of a story. When he flees to Brighton after an explosive break-up, the perfect subject lands in his lap: reformed gangster Joss Grand. Now in his eighties, Grand once ruled the Brighton underworld with his sadistic sidekick Jacky Nye - until Jacky washed up by the West Pier in 1968, strangled and thrown into the sea. Though Grand's alibi seems cast-iron, Luke is sure there's more to the story than meets the eye, and he convinces the criminal-turned-philanthropist to be interviewed for a book about his life.

Luke is drawn deeper into the mystery of Jacky Nye's murder. Was Grand there that night? Is he really as reformed a character as he claims? And who was the girl in the red coat seen fleeing the murder scene? Soon Luke realises that in stirring up secrets from the past, he may have placed himself in terrible danger.
+
I think this sounds like a really great gripping read, hopefully I will get to give it a read soon. Erin Kelly is also the author of Broadchurch which is now the tv hit (haven't seen any of it yet).
First Frost by Sarah Addison Allen
Released: 29th January 2015
Publisher: Hodder & Stoughton
Available in Paperback and on Kindle
Autumn has finally arrived in the small town of Bascom, North Carolina, heralded by a strange old man appearing with a beaten-up suitcase. He has stories to tell, stories that could change the lives of the Waverley women forever. But the Waverleys have enough trouble on their hands. Quiet Claire Waverley has started a successful new venture, Waverley's Candies, but it's nothing like she thought it would be, and it's slowly taking over her life. Claire's wild sister Sydney, still trying to leave her past behind, is about to combust with her desire for another new beginning. And Sydney's fifteen-year-old daughter Bay has given her heart away to the wrong boy and can't get it back.
I have never read anything by Sarah Addison Allen but her covers always strike me as beautiful and make you want to pick the book up. I believe this is a follow on from Garden Spells where her Waverley women books started. I'm really hoping this is a new author I get to try out this year.
So that I my pick from this week's releases, a real mixed bag. I have review copies for a couple of them so keep a look out for the review coming up.