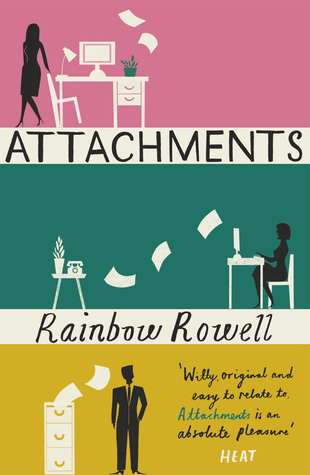 Attachments by Rainbow Rowell
Blurb
It's 1999 and for the staff of one newspaper office, the internet is still a novelty. By day, two young women, Beth and Jennifer, spend their hours emailing each other, discussing in hilarious detail every aspect of their lives, from love troubles to family dramas. And by night, Lincoln, a shy, lonely IT guy spends his hours reading every exchange.
At first their emails offer a welcome diversion, but as Lincoln unwittingly becomes drawn into their lives, the more he reads, the more he finds himself falling for one of them. By the time Lincoln realizes just how head-over-heels he really is, it's way too late to introduce himself. What would he say to her? 'Hi, I'm the guy who reads your e-mails - and also, I think I love you'.
After a series of close encounters, Lincoln decides it's time to muster the courage to follow his heart, and find out whether there really is such a thing as love before first-sight.
Attachments is the story of Lincoln, who works nights at The Courier newspaper as an internet security guy monitoring the company emails. He begins to read the emails between two co-workers Beth and Jennifer as they share their ups and downs with each other. Slowly Lincoln begins to have feelings for one of the girls and begins to feel uneasy about his job. Will Lincoln have the courage to embrace his feelings and find out if you can fall in love before first sight?
This book alternates in chapters between Lincoln's story and the email dialogue between Beth and Jennifer, at first I wasn't sure if I would like this but it worked really well. You get to know Beth and Jennifer without actually meeting them.

It highlighted really well they way that Lincoln almost meets his girl on more than one occasion and that he's not the only one who has been admiring from afar, as he gets nick named "my cute guy" by one of the girls which made this story for me really adorable.
I loved Lincoln as a character, he was just so cute the way he fell for the real girl and not just her looks. He just appeared to be an all-round nice guy that had got himself stuck in a rut and needed a little inspiration to find his way out. I really enjoyed the way he handled his mother, you could tell he became frustrated with her sometimes but he was never disrespectful, he just gently ignored her and carried on.

His growing friendship with Doris the cleaner was also really cute and just made me want to hug him.
It was really refreshing to read a romantic tale from the male perspective as this is very rare in books, especially chick-lit type books (not that this is full on chick-lit) and think it is something which should be done more.
I loved this book and will definitely be reading more from Rainbow Rowell even though the majority of her work is Young Adult fiction which I don't read much of.

I recommend this to anyone who wants a light hearted funny read with a very adorable male lead that will just make you feel warm and cosy inside.