Today is a great day for me in publishing world as a few of my favourite authors are releasing new books today and it has been hard to pick my three favourites.
Published: 28th January 2016
Publisher: Headline
Pages: 368
Available in Hardcover and on Kindle

On the morning of Lily's twenty-fifth birthday, it's time to open the very last letter written to her by her beloved mother, who died when she was eight.

Learning more about the first and only real love of her mum's life is a revelation. On the same day, Lily also meets Eddie Tessler, a man fleeing fame who just might have the ability to change her world in unimaginable ways. But her childhood friend Dan has his own reasons for not wanting Lily to get too carried away by Eddie's attentions.

Before long, secrets begin to emerge and Lily's friends and family become involved. In the beautiful Cotswold village of Stanton Langley, nothing will ever be the same again...
I'm about 90% finished with this book and although I'm pretty certain how it will end I have loved it, the characters are all lovely...well mostly. The plot has enough twists to make it interesting and Jill's writing is humorous, light-hearted and comforting with an added sprinkle of romance which has made this a joy to read. I will have a full review of this book tomorrow so pop back if you like the sound of it.
Published: 28th January 2016
Publisher: Pan
Pages: 352
Available in Hardback and on Kindle
The best things in life . . . can be just around the corner
Rachel and Becca aren't real sisters, or so they say. They are stepsisters, living far apart, with little in common. Rachel is the successful one: happily married with three children and a big house, plus an impressive career. Artistic Becca, meanwhile, lurches from one dead-end job to another, shares a titchy flat, and has given up on love.
The two of them have lost touch, but when Rachel doesn't come home one night, Becca is called in to help.
Once there, she quickly realizes that her stepsister's life is not so perfect after all: Rachel's handsome husband
has moved out, her children are rebelling, and her glamorous career has taken a nosedive. Worst of all,
nobody seems to have a clue where she might be.
As Becca begins to untangle Rachel's secrets, she is forced to confront some uncomfortable truths about
her own life, and the future seems uncertain.
But sometimes happiness can be found in the most unexpected places . . .
I'm a huge Lucy Diamond fan so any new release of hers automatically goes on the must read pile and this is no exception it sounds like another great read. I love how her characters always have really interesting background stories just waiting to be discovered and I can't wait to find out more about Rachel and Becca.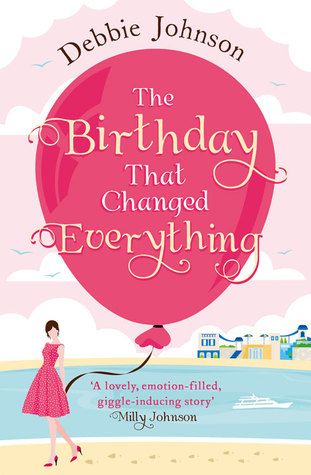 The Birthday That Changed Everything by Debbie Johnson
Published: 28th January 2016
Publisher: HarperImpulse
Pages: 400
Available in Paperback and on Kindle
She wanted a birthday surprise, just not the one she got…

The last thing Sally Summers expected from her husband on her special day was that he'd leave her for a Latvian lap dancer half her age. So with her world in tatters, Sally jets off to Turkey for some sun, sea and sanctuary.

The Blue Bay resort brings new friends and the perfect balm for Sally's broken heart in gorgeous Dubliner James. He's just the birthday present she needs. And when the chemistry between them continues to spark as the holiday ends, Sally wonders if this is more than just a summer fling.

But James has scars of his own and Sally isn't quite ready to turn her back on her marriage. This birthday might have changed everything, but what will the next one bring?
Debbie's writing is always full of fun so I'm really looking forward to reading this one over the weekend, pop back next week for a full review.