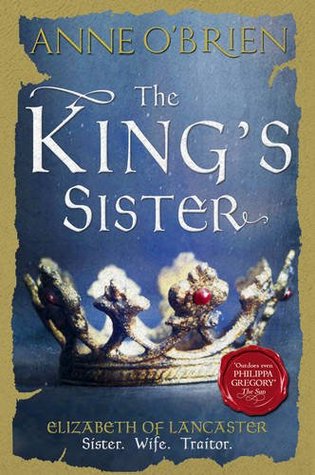 The King's Sister by Anne O'Brien
Published: 1st November 2014
Available in Hardback and on Kindle
1382. Daughter of John of Gaunt, sister to the future King Henry IV, Elizabeth of Lancaster has learned the shrewd tricks of the court from England's most powerful men. In a time of political turmoil, allegiance to family is everything. A Plantagenet princess should never defy her father's wishes. Yet headstrong Elizabeth refuses to bow to the fate of a strategic marriage. Rejecting her duty, Elizabeth weds the charming and ruthlessly ambitious Sir John Holland: Duke of Exeter, half-brother to King Richard II and the one man she has always wanted. But defiance can come at a price. 1399. Elizabeth's brother Henry has seized the throne. Her husband, confident to the usurped Richard, masterminds a secret plot against the new King. Trapped in a dangerous web, Elizabeth must make a choice. Defy the King and betray her family. Or condemn her husband and send him to his death. Sister. Wife. Traitor. She holds the fate of England in her hands.
The King's Sister tells the story of Elizabeth of Lancaster, sister to Henry IV. The story begins in 1380 in Elizabeth's childhood home Kenilworth Castle on the day her marriage to the eight year old Duke of Pembroke is announced. Elizabeth is distraught with this news as he's so much younger than her even though the match is politically a very strong one for her family. Elizabeth surrenders to her arranged marriage, until the day she meets John Holland, half-brother to King Richard and a man Elizabeth is instantly attracted to. They begin a love-hate relationship for a number of years until Elizabeth begs her father for an annulment to her marriage so she can marry her lover. Although she loves him deeply life with John Holland is not always an easy and happy one for Elizabeth, her husband has ambitions for himself alongside King Richard, which don't always put his family first. As Elizabeth's brother Henry gains favour for the crown Elizabeth has a difficult choice to make, betray her husband or her brother.
I have been a fan of historical fiction for a while but have tended to stick reading about the Tudors, mainly through the work of Philippa Gregory. The King's Sister seemed the perfect book to discover a new historical fiction author and in Anne O'Brien I have found a wonderful writer. Her ability to create a realistic historically accurate and gripping read shows she has a real skill for storytelling in a period which has been well researched.
I really enjoyed reading The King's Sister, I loved the romance that brewed between Elizabeth and John Holland over the years, starting so innocently and gradually became more passionate which I felt made the characters very real. Elizabeth was a really great character, she is determined and appears to have more guts than some men at the time. So has no problem barging in on political meetings if it means she'll get her own way, which a lot of the time she does. She does come across as a little selfish, she decides she wants to end her marriage to the Duke of Pembroke, but she gives no consideration to how this will affect him, or indeed her father's situation at court. When she decided to step in and make her betrayal, the choice she made must have been heart-breaking, knowing she was probably going to lose one of the men she loved, her husband or her brother.
The King's Sister is a big book and not the easiest story to follow that I've ever read. I do think it is worth the time and effort though as it was an enjoyable read and one which gave me a real taste of life in England at that time. It's a book I can see myself enjoying again in the future as I found Anne's writing absorbing and I cannot wait to pick up her next book.
Thank to Mira for sending me a copy to review.