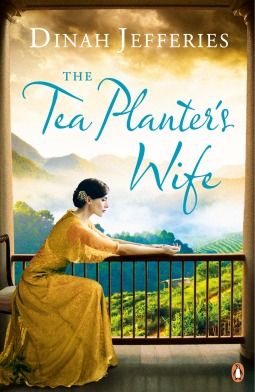 The Tea Planter's Wife by Dinah Jeffries
Published: 3rd September 2015
Available in Paperback and on Kindle
Two newlyweds: practically strangers, deeply in love, and each hiding a secret from the other...
Nineteen-year-old Gwendolyn Hooper steps off a steamship in Ceylon eager to begin her new life as a married woman. But the husband who greets her is distant, secretive and brooding. Laurence is forever away working, leaving his young English bride to explore the vast tea plantation alone. Wandering into forbidden places, Gwen finds locked doors, trunks filled with dusty dresses, a tiny overgrown grave - clues to a hidden, unspeakable past.
Gwen soon falls pregnant and her husband is overjoyed, but in the delivery room she is faced with a terrible choice - one she must hide from Laurence at all costs. When the time comes to reveal the truth, how will he ever forgive what she has done?
The Tea Planter's Wife follows the story of Laurence and Gwen Hooper as they return to Ceylon to begin married life.

As soon I began reading this book I knew it was going to be special, the descriptive language used in the first chapter instantly transported me onto the boat arriving in Columbo alongside Gwen. The author has captured the true essence of Ceylon perfectly right down to the cinnamon and jasmine in the air masking the underlying smell of the sewage, which made me feel like I was living the story.
As the newly- weds begin their married life, Laurence becomes distant as Gwen begins to feel uncertain of her future, especially as she discovers things which begin to make her question Laurence's past – hidden graves, locked rooms, things hinted but left unsaid by her maid and sister in law Verity. Soon Gwen finds herself pregnant and Laurence is overjoyed but on the night she gives birth Gwen gets a terrible shock and is faced with a difficult decision, one which will alter their lives forever.
This book is so much more than just a marital saga it deals with jealously, conflict, prejudices, tragedy and secrets. I particularly loved the way the author has captured the historical elements of the period including the workers unrest on the tea plantations, the prejudices of mixed race marriages and the impact of the 1929 stock market collapse, it really added to the realism of the story.
It's also a book which affected me with all the emotions in it, Gwen and Laurence are lovely characters and so in love with each other and so eager to keep each other happy that they don't completely reveal everything to each other, this leads to tragedy that could so easily be avoided if they'd just opened up a little more. I felt my heart breaking along with Gwen's as she has to decide what to do and so many times I was longing for her to tell Lawrence.
This is exactly the type of book that I adore, it full of romance, with a historical element and elements of mystery all bound together by brilliant writing. The Tea Planter's Wife is definitely one of my favourite books of 2015 and I cannot wait to read more from this wonderful writer.
Thank you so much to Penguin UK for sending me a copy to review, I loved everything about his book and give it a very well deserved 5/5!