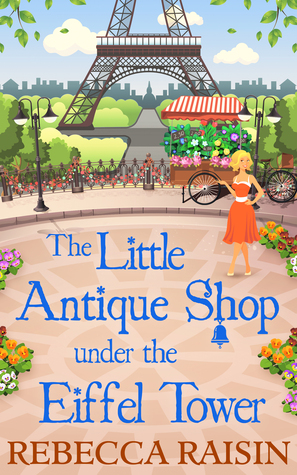 The Little Antique Shop under the Eiffel Tower by Rebecca Raisin
Published: 30th June 2016
Escape to Paris this summer and prepare to be swept off your feet…
Anouk LaRue used to be a romantic, but since she had her heart well and truly broken her love life has dissolved into nothing more than daydreams of the perfect man. Retreating to her extraordinary Little Antique Shop has always been a way to escape, because who could feel alone in a shop bursting with memories and beautiful objects…

Until Tristan Black bursts into an auction and throws her ordered world into a spin.

Following your heart is a little like getting lost in Paris – sometimes confusing and always exciting! Except learning to trust her instincts is not something Anouk is ready to do when it comes to romance, but the city of love has other ideas…
The Little Antique Shop Under the Eiffel Tower is the second book in Rebecca Raisin's Little Paris series and has been a book I've been looking forward to very much as Rebecca is one of my favourite authors, don't worry if you haven't read the first book, this works perfectly as a standalone. This is the first book which has featured predominantly new characters and not those we know and love from the little town of Ashford. This made me a little apprehensive as I wasn't sure this book would have the same attraction as her previous novels, but never fear Rebecca has written another fabulous novel which could possibly be my favourite so far.
Anouk La Rue is the main character of this book, those of you who read Rebecca's previous novel The Little Bookshop by the Seine may remember she has a unique way of running her shop. Anouk is devoted to antiques and their history and won't let just anyone walk into her shop and buy something, you have to be personally recommended by an existing customer. She will then only sell antiques if she believes the customer is genuinely interested the antiques heritage, so she's probably never going to make millions.
The Little Antique shop has become even more important to Anouk after she had her heart broken by ex-boyfriend Joshua. He left her with mountains of debt which she is determined to pay off so she can keep her shop, so she has sworn off men for the foreseeable future. Despite efforts from her sister Lilou and friend Madame Dupont , Anouk's heart remains closed until she happens to meet the mysterious and extremely handsome Tristan Black at an auction. Try as she might Anouk cannot resist the charms of Tristan and the chemistry between them, but is she right to let him into her heart?
Initially I didn't warm to Anouk, I think this was more due to the fact I was expecting more of Rebecca's previous characters to appear, than Anouk herself. I loved that she was so devoted to the stories behind the antiques and finding them happy homes. She also tried to do here best for sister Lilou who was in need of some of Anouk's drive and determination, but I wished she lighten up a little bit and not be so serious and orderly. By the end Anouk had grown on me and I'm sad her story has finished as I became totally wrapped up in it.
I really loved that Rebecca has introduced more of a mystery into this book along with the bubbling romance between Anouk and Tristan. I felt this gave the book more depth than her previous novels. I did work out some of the mystery before the end, but there are also a couple of twists which I wasn't expecting which added to my enjoyment.
Overall this is another fabulous read from one of my favourite authors. Again she has captured the romance between Anouk and Tristan perfectly and I loved the addition of the mystery of the missing jewels. She has also captured Paris perfectly as I could really imagine walking along the cobbled alleyways with Anouk and visiting the various auction houses.
Thank you some much to Carina UK and Netgalley for the review copy, I adored this book and can't recommend it enough. So looking forward to reading Rebecca Raisins next book.