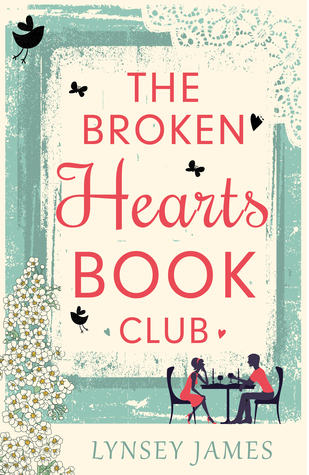 The Broken Hearts Book Club by Lynsey James
Published: 12th October 2015
Secrets never stay buried for long…
Lucy Harper has always been good at one thing: running from her past. But when her beloved Nana Lily passes away she has no choice except to return to the one place in the world she most wants to avoid…
Luna Bay hasn't changed much in the eight years she has spent in London. The little Yorkshire village is still just as beautiful, but the new pub landlord is a gorgeous addition to the scenery!
Lucy only intended to stay for a day, yet when she discovers that Nana Lily has not only left her a cottage but also 'The Broken Hearts Book Club', Lucy is intrigued. Her Nana never have mentioned the club and Lucy can't wait to get started, but walking into her first meeting she is more aware than ever that her past is finally catching up with her.
One way or another, Lucy must finally face the past she left behind – or spend the rest of her life on the run…
Review
The Broken Hearts Book Club is the first book in the new Luna Bay series by Lynsey James and is actually the first book of hers that I have read. Full of things I love books, romance and a gorgeous Yorkshire village I was sure I was going to love this and I did.
Lucy Harper has just returned to Luna Bay for her Nana Lily's funeral after keeping away in London for eight years. Lucy feels very uneasy about being back in Luna Bay as the tragedy of what happened years ago still haunts her and is something of a mystery to reader until well into the second half of the book.
She was hoping to just head back to London and leave the past behind for good, but her Nana Lily has had other ideas. She has left Lucy her beautiful cottage by the sea, which is hers to keep providing she lives in the cottage and takes over the running of the Broken Hearts Book Club for three months. Lucy loved Rose Cottage as a child so is torn in two as she really doesn't want to stay in Luna Bay, but intrigue into her Nana's special book club and a very dishy barman are just enough reasons to get Lucy to stay instead of scurrying back to the safety and anonymity of London.
Life back in Luna Bay isn't quite as easy as Lucy imagined, determined to help the members of The Broken Hearts Book Club doesn't quite go to plan and makes for some very funny moments as Lucy tries to fix all the messes she makes. There's also still some hostility from certain members of the village which Lucy is scared to face up to.
Lucy was a wonderful main character, she tries so hard to please everybody that she doesn't always completely think things through, which leads to some misunderstandings, but you could tell she really did begin to care about making the members of the book club happy and that she just wanted the best for everybody. I also loved many of the other characters including Elle, George and Jake and I even warmed to Diane towards the end.
I did feel that the mystery of what happened to the past did overtake the story a little as it's hinted at so frequently. I was reading fairly fast through this book as I wanted to find out what the big mystery was and to be honest I was a little disappointed when I found out what it was. I did however settle into the book more and really enjoyed the last few chapters at a more leisurely pace.
I also really enjoyed the romance that builds up between Jake and Lucy and loved reading how their relationship developed as it felt very real and also didn't overpower the book.
Overall I found The Broken Hearts Book Club to be an enjoyable read with some lovely characters, in a beautiful setting, yes I want to go to Luna Bay myself. It's a story with mystery, with romance and with the message that it's okay to forgive yourself and leave your heartbreak behind.
I'm glad there is a second Luna Bay book out now as I'm eager to dive back into Luna Bay and all its lovely characters.
Thank you so much to the publishers and Netgalley for providing me with a copy to review.