This week there are five books which have been released which have taken my interest:
You Think You Know Me by Clare Chase
Released: 3rd December 2014
Publisher: Choc Lit Uk
Available on Kindle
Sometimes, it's not easy to tell the good guys from the bad …

Freelance journalist, Anna Morris, is struggling to make a name for herself, so she's delighted to attend a launch event for a hip, young artist at her friend Seb's gallery.

But an exclusive interview isn't all Anna comes away with. After an encounter with the enigmatic Darrick Farron, she is flung into the shady underground of the art scene – a world of underhand dealings, missing paintings and mysterious deaths …

Seb is intent on convincing Anna that Darrick is up to no good but, try as she might, she can't seem to keep away from him. And as she becomes further embroiled, Anna begins to wonder – is Seb's behaviour the well-intentioned concern of an old friend, or does he have something to hide?
I am lucky enough to have a review copy of this sent from Choc Lit UK, I've only read a few chapters but so far it seems really good, look out for my review next week.
I'll Take New York by Miranda Dickinson
Released: 4th December 2014
Publisher: Avon
Pages: 416
Available in Paperback and on Kindle
Have you ever given up on love?


When her boyfriend lets her down for the last time, Brooklyn bookshop owner Bea James makes a decision – no more. No more men, no more heartbreak, and no more pain.


Psychiatrist Jake Steinmann is making a new start too, leaving his broken marriage behind in San Francisco. From now on there'll just be one love in his life: New York.


At a party where they seem to be the only two singletons, Bea and Jake meet, and decide there's just one thing for it. They will make a pact: no more relationships.
I haven't read many Miranda Dickinson novels but I don't think I can resist the cover of this one with it gold highlights, plus it seems a like a good plot line.
The Snow Angel by Lulu Taylor
Released: 4th December 2014
Publisher: Pan
Pages: 400
Available in Paperback and on Kindle
Order now from Amazon
A forbidden passion. A lifetime of consequences.
Cressida Felbridge is living the high life as a debutante in 1960s London society when she is courted by a friend of her brother's and set to marry. Wishing only the best for his daughter, her father decrees that she must have her portrait painted to mark the occasion. But as soon as she meets the painter Ralph Few, Cressie knows her life will never be the same again. Soon, she is deeply in love with Ralph, but there is one problem: Ralph is still married to Catherine. As Cressie is drawn into a strange, triangular relationship, Catherine's behaviour becomes increasingly erratic and Ralph and Cressie escape to Cressie's family home in Cumbria. But Catherine will not give up Ralph that easily . . .
In the present day, Emily Conway has everything she could wish for: a huge house in West London, two beautiful children and a successful husband, Will. But as Emily and Will drive to a party, Will reveals that he has been betrayed by his business partner. Steering the car off the road at high speed, their perfect life is abruptly ended. When she wakes from her injuries, Emily is told of a mysterious legacy: a house in Cumbria on the edge of an estate, left to her by a woman she has never met. Could this house provide the chance to start anew, or does it hold secrets that she must uncover before it can be at peace?
Lulu Taylor is one of my favourite authors and anything she writes will definitely end up on my bookshelf. I have a copy of this one on its way to me, so keep an eye out for my review in the next few weeks.
A Christmas Feast by Katie Fforde
Released: 4th December 2014
Publisher: Arrow
Pages: 240
Available in Paperback and on Kindle
Add some extra sparkle to your Christmas by joining Katie Fforde for a perfect, romantic Christmas feast of short stories. Collected together for the first time and including one brand new story.


Make your Christmas wishes come true...
I have a review copy of this to read and I'm really looking forward to grabbing a few moments here and there the read a story all in one go. Look out for my review soon.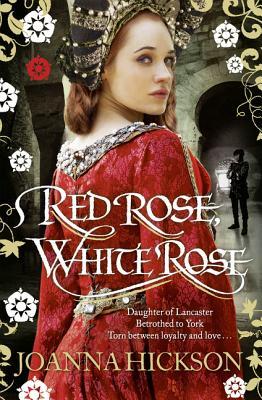 Red Rose, White Rose by Joanna Hickson
Released: 4th December 2014
Publisher: Harper
Pages: 400
Available in paperback and on Kindle

Richard, the thirteen-year-old Duke of York, England's richest heir.
Told through the eyes of Cicely and her half-brother Cuthbert, Red Rose, White Rose is the story of one of the most powerful women in England during one of its most turbulent periods. Born of Lancaster and married to York, the willowy and wayward Cicely treads a hazardous path through love, loss and imprisonment and between the violent factions of Lancaster and York, as the Wars of the Roses tear England's ruling families apart.
So nearly queen herself, Cicely Neville was the mother, grandmother and great-grandmother of kings – and her descendants still wear the crown.
I haven't read an historical fiction in ages, so when I came across this book it seemed perfect. I've not read anything by this author before and very little about the Neville family, so looking forward to getting a chance to read this sometime.
This will be my last Release Day Round for 2014. I hope you have enjoyed taking a look at my favourite releases and have found some interesting books to add to your tbr piles. I will be back on January 1st with the first Release Day Round Up of 2015.