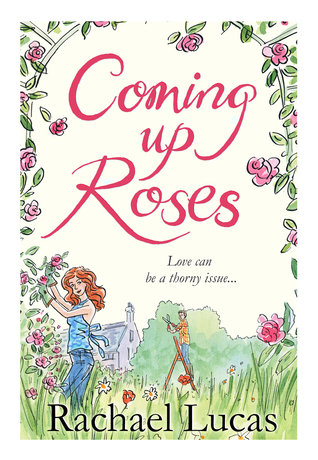 Coming Up Roses by Rachael Lucas
Available in Paperback and on Kindle
Would-be gardener Daisy can't believe her luck when her parents announce they're off on a midlife crisis gap year, leaving her in charge of their gorgeous garden. After a turbulent few months, a spot of quiet in the countryside is just what she needs.

A shoulder to cry on wouldn't go amiss either - so when Daisy comes across Elaine and Jo, she breathes a sigh of relief. But her new friends are dealing with dramas of their own…

As Daisy wrestles the garden into something resembling order, her feelings for handsome Irishman George begin to take root. Daisy's heart's desire − her parent's garden − is under threat, and Daisy's forced to confront nosey neighbours and fight greedy developers. Village life is turning out to be far from peaceful.
Review
Coming up Roses is the first book I've read by Rachael Lucas and I thoroughly enjoyed it.

Rachael's writing style is lovely, it flows well and has just the right amount of humour and emotion.

It's the perfect book to read out in a garden on a summer's day, an easy read about village life with a sprinkle of romance and laughter that you'll keep going until the last page.
Broken hearted Daisy turns up at her parents' house Orchard Villa looking for a sanctuary after her relationship with Jamie came to a sudden end. Slightly relieved when her parents take off to India, Daisy is hoping to be left alone to mend her broken heart by bringing the overgrown garden back to its former glory. However the village of Steeple St. John slowly creeps its way into her life and soon Daisy finds out that village life isn't as quiet as she'd hoped. Although Daisy has sworn off men, there seem to be a few who are keen on her, mysterious Irishman George, the cheeky local vet Ned and Jamie her ex all make an attempt to win her heart. Will Daisy fall for the charms of any of these men or is she happier spending her time in the garden?
I really warmed to the main character Daisy. Initially she seemed quite shy and reserved around other people, probably due to having her world torn apart by two people closest to her. When she begins to mix in the village she becomes warm and caring and funny. She's the sort of character you really want to find her happy ending and you feel for her when things start to go wrong again.
I loved the intimate friendship she formed so quickly with Elaine and Jo, it's so good to find kindred sprits you can share your worries with and it was just what Daisy needed. In the book we also have the stories of Jo and Elaine which helped to develop the plot. Jo struggling with whether to contact daughter Martha's long lost father and Elaine's seemingly perfect lifestyle getting a shake up from husband Leo.
Steeple St. John and all its inhabitants have worked their way into my heart and I really hope there is more from this village as I can see further stories working really well. I really enjoyed reading this book and just love the cover, it's beautiful.

Be warned though, after reading it all I wanted to do was go outside and do some gardening!
I'd give Coming up Roses by Rachael Lucas a rating of 5/5 and would like to thank the people at Pan for sending me a copy to review.

Hopefully I will get a chance to read her other novel Sealed with a Kiss very soon.