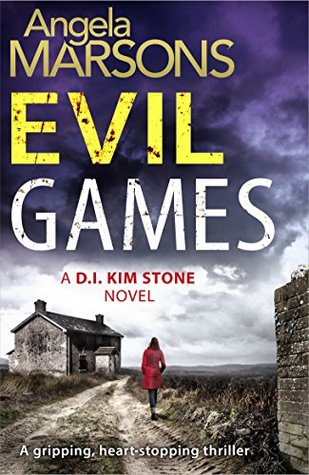 Evil Games ( D.I. Stone #2) by Angela Marsons
Available in Paperback and on Kindle
The greater the Evil, the more deadly the game…
When a rapist is found mutilated in a brutal attack, Detective Kim Stone and her team are called in to bring a swift resolution. But, as more vengeful killings come to light, it soon becomes clear that there is someone far more sinister at work.

With the investigation quickly gathering momentum, Kim finds herself exposed to great danger and in the sights of a lethal individual undertaking their own twisted experiment.

Up against a sociopath who seems to know her every weakness, for Detective Stone, each move she makes could be deadly. As the body count starts to mount, Kim will have to dig deeper than ever before to stop the killing. And this time - it's personal.
After reading and been totally blown away by Angela Marsons' first DI Stone novel Silent Scream I was eager to read her second novel Evil Games and it didn't disappoint, it's another highly addictive and fast paced read which I thoroughly enjoyed.
In Evil Games DI Stone and her team are investigating an ongoing child abuse case alongside the recent brutal stabbing of a rapist. As other crimes are committed Kim feels there is a connection between them, her colleagues disagree but as the name Dr Alexandra Thorne keeps cropping up Kim can't let that niggle in her gut go. As she investigates on her own Kim comes face to face with a dangerous sociopath and as Kim faces her deepest fears…can she outwit her strongest adversary yet?
Wow, just like Angela's first crime thriller this was addictive from the very first page and had me hooked until the end. There were so many plot twists and turns that kept me totally absorbed, making for a fairly quick read. The short chapters and Angela's excellent action packed writing style helped this book to flow brilliantly. One thing I really loved was that the last sentence of each chapter seemed to add more clues to the case and was like a mini cliff-hanger urging me to keep reading.
In Alexandra Thorne Angela has created a truly despicable and unsettling character, reading about her was so intriguing. Just like Kim I felt that niggle that she wasn't quite as charming as she first appeared and as we learnt more about her and her mind games she just made me shudder. Well done to Angela for creating such a brilliant character.
Another thing I loved about Evil Games was that we learnt a lot more about Kim's background which really made like her more as a character. Although we learn more about why she is so harsh and closed off to emotions it was nice that with the introduction of Barney the dog there is hope for Kim to form relationships in the future, something to look forward too maybe?
Evil Games was a brilliant read, written in the same addictive style as Silent Scream and as a follow it's just as good as the first one. So looking forward to reading the next book Lost Girls and really hoping Angela will continue to write this wonderful series.
Thank you so much to Bookouture and Netgalley for the review copy, I give Evil Games a massive 5 out 5 and urge anyone who hasn't read this to do so now, you won't regret it.