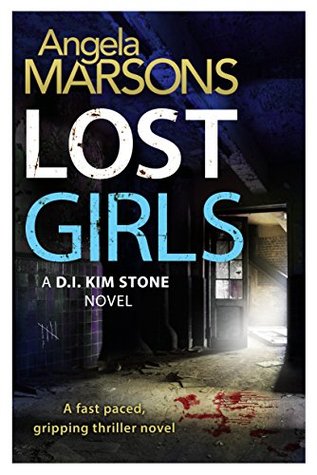 Published: 6th November 2015
Available in Paperback and on Kindle
Two girls go missing. Only one will return.
The couple that offers the highest amount will see their daughter again. The losing couple will not. Make no mistake. One child will die.

When nine-year-old best friends Charlie and Amy disappear, two families are plunged into a living nightmare. A text message confirms the unthinkable; that the girls are the victims of a terrifying kidnapping.

And when a second text message pits the two families against each other for the life of their children, the clock starts ticking for D.I. Kim Stone and the squad.

Seemingly outwitted at every turn, as they uncover a trail of bodies, Stone realises that these ruthless killers might be the most deadly she has ever faced. And that their chances of bringing the girls home alive, are getting smaller by the hour…

Untangling a dark web of secrets from the families' past might hold the key to solving this case. But can Kim stay alive long enough to do so? Or will someone's child pay the ultimate price?
Lost Girls is Angela Marsons' third instalment in the D.I. Stone series and I think it might just be my favourite so far. Just like her previous two novels Silent Scream and Evil Games Angela has written a fast-paced and gripping story which will have you on the edge of your seat, your nerves in tatters and physically unable to put that book down!
This time the case involves two young girls who have been kidnapped and a bidding war is instigated between the two families, the incentive being whichever family pays the most will see their little girl again, the other won't. The case mirrors an earlier case where only one of the girls was returned safely. As Kim is put in charge of this high profile case she promises to deliver both girls home…alive.
As Kim and her team set up home in one of the families' homes they are joined by two additional members, profiler Alison and negotiator Matt. In true Kim style she doesn't let them settle in easily and there is a lot of verbal sparring between them as Kim struggles with the pressure to deliver a result as time slowly runs out. Being located in the home of one of the families also gave an insight into the way the two couples reacted to each other as time when on, the emotions and dialogue between them was just fascinating to read and very believable.
Aside from the main case we begin to learn more about D.S. Kevin Dawson as Kim sends him off on his own to tie up an old case. I really enjoyed getting to know more about Dawson and his background as it made Kim's team feel even more real. I hope in the next novel we can learn more about Stacey and what makes her tick.
As the story unfolded I began to have a feeling for who I thought was the perpetrator and…boom...how wrong I was! The last few chapters of this novel built up into an utterly amazing and nail-biting conclusion, one which I totally didn't see coming and completely threw me as I thought, aww Angela has done it again! Her plots just get better and better and the realism of it all has me in awe as everything always comes together in such a clever way.
I think 2015 has been a fantastic year for Angela Marsons' she has delivered three outstanding crime novels and seems to have become a firm favourite with many crime readers. She has definitely become my favourite crime writer and one which I know will produce some must-read novels of 2016. Well done Angela, I am a huge fan of your utterly brilliant addictive writing and please, please don't stop writing!!
Finally I'd like to say I give Lost Girls 5/5….it really deserves many more! I'd also like to thank Bookouture and Netgalley for the review copy, it has been a pleasure to read and review