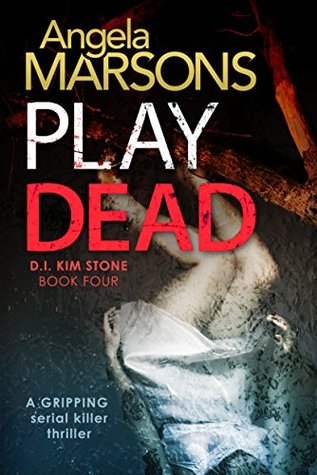 Play Dead (D.I. Stone Book #4) by Angela Marsons
Available in Paperback and on Kindle
The dead don't tell secrets… unless you listen.
The girl's smashed-in face stared unseeing up to the blue sky, soil spilling out of her mouth. A hundred flies hovered above the bloodied mess.


Westerley research facility is not for the faint-hearted. A 'body farm' investigating human decomposition, its inhabitants are corpses in various states of decay. But when
Detective Kim Stone
and her team discover the fresh body of a young woman, it seems a killer has discovered the perfect cover to bury their crime.

Then a second girl is attacked and left for dead, her body drugged and mouth filled with soil. It's clear to Stone and the team that a serial killer is at work – but just how many bodies will they uncover? And who is next?

As local reporter, Tracy Frost, disappears, the stakes are raised. The past seems to hold the key to the killer's secrets – but can Kim uncover the truth before a twisted, damaged mind claims another victim …?
Play Dead is Angela Marsons fourth novel, yes fourth! Which is shocking when you think a little over a year ago no one had heard of DI Kim Stone and now she has built up a massive loyal following, which just goes to show what a talented writer Angela Marsons' is. I was a little nervous when starting Play Dead as what if this one wasn't as good as the others, well never fear, once again Angela Marsons' has written a novel which sucks you in from the very first paragraph and hooks you until the very end.
This time a body is discovered quite by chance when Kim and her team are visiting a "body farm" which is researching various forms of decomposition. When a second victim is left for dead in a horrific state just days later, it's up to the team to find this gruesome killer before they strike again.
Once again I have been blown away by just how detailed these novels are, Angela Marsons really seems to know criminals and police procedure perfectly which makes for gripping and sometimes horrifying reading. My favourite thing about these novels is how she gives both the killer and the victim a convincing voice, giving the reader a fuller understanding of motives and feelings.
This is this first novel by Angela Marsons where I have had suspicions about who the killer might be, I was right but not in the way I thought. This didn't ruin the book for me at all as once again I wasn't prepared for the number of twists and shocks which were given before the motive and killer are revealed. I adored reading this adrenaline fuelled rollercoaster of a book and am sad it's over and I have to wait months for the next ride.
I love how with each new novel we are learning more about Kim, her team and people who are becoming "regulars" in the D.I. Stone novels. In this novel Tracey Frost a news-reporter from the previous novel Lost Girls is brought back and Kim learns they have more in common than she would like to admit. Another character who returns is Daniel Bate and there is a spark of chemistry between him and Kim but will she finally left someone in?
After reading this Angela Marsons has secured the top spot of my favourite crime writer and I know it will take something special to replace her. So please, please go and read Play Dead, it's a fantastic novel and you won't be disappointed.
Play Dead from Angela Marsons received 5 out 5 for me and is one of my favourite books of the year. Thank you so much to the publishers Bookouture and NetGalley for the review copy in exchange for my honest opinion.