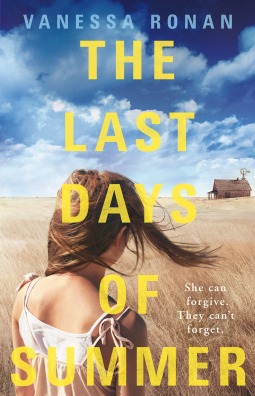 The Last Days of Summer by Vanessa Ronan
Publisher: Penguin Ireland
Available in Paperback and on Kindle
She can forgive. They can't forget.

After ten years in the Huntsville State Penitentiary, Jasper Curtis returns home to live with his sister and her two daughters. Lizzie does not know who she's letting into her home: the brother she grew up loving or the monster he became.

Teenage Katie distrusts this strange man in their home but eleven-year-old Joanne is just intrigued by her new uncle.

Jasper says he's all done with trouble, but in a forgotten prairie town that knows no forgiveness, it does not take long for trouble to arrive at their door.
The Last Days of Summer tells the tale of Jasper Curtis as he returns home to the prairie outback of western Texas after spending ten years in the Huntsville State Penitentiary. His sister Lizzie has agreed he can come home to live with her and her two daughters Katie and Joanne, but she is unsure who will walk through the door the brother she once loved or the monster he became. The rest of the town are unsettled by his return and it's not long before Jasper has found himself in the middle of trouble once more.
I found the writing in The Last Days of Summer to be very descriptive and Vanessa Ronan has done an excellent job of building the scene for us and giving us an understanding of each of the characters. I did feel this added to the suspense and feeling of unease throughout the book as we are drip fed littles snippets of Jasper's life before prison but are not initially told what he did. While reading this book I felt the certain uneasiness that something really bad was going to happen and this is conveyed beautifully in the writing style. I did feel that all the action happened a little too late in the book. It's not until three quarters of the way through that we find what Jasper did and the consequences of his return to town. By this time I was a little bored with the story and didn't enjoy as much as if it had perhaps been a little shorter or a little less character driven.
I did find this quite a hard book to follow as it's told from four different perspectives. Jasper, his sister Lizzie's and each of her daughters Katie and Joanne have their own voice. The majority of the story is told in one main chapter "July" with no distinctive separation when the author changes voices, so you didn't instantly know which character you're focusing on and at times this was confusing.
I didn't like the two older main characters. I found Jasper someone who just gave me the creeps, Lizzie might believe he's changed but it's obvious from his thoughts and actions that he hasn't and it's only a matter of time before he evil thoughts lead him to cause trouble again. I felt Lizzie was too weak. I could understand that living out on the prairie alone with her husband gone she wants some adult company and someone to help carry the burden. I felt she should have not allowed Jasper back and thought more about protecting her daughters from danger but also from town gossip and hurtful rumours instead of hoping her childhood brother and friend had returned. The only character I liked was little Joanne, she seemed so sweet, innocent and far too trusting to just accept her Uncle Jasper as her friend. The scene with the play fort in the living room was one of my favourite in the book.
The Last Days of Summer is a novel which perfectly captures the uneasiness of being around a simmering pot of evil and waiting for it to boil over. It's a novel about family, forgiveness and about revenge. It's a book which falls in the middle for me, some parts I enjoyed but overall it didn't wow me. I enjoyed the writing style and would be interested to see what Vanessa Ronan writes next. I'd like to rate three out of five.
I would like to thank the publishers for this review copy in exchange for my honest opinion.