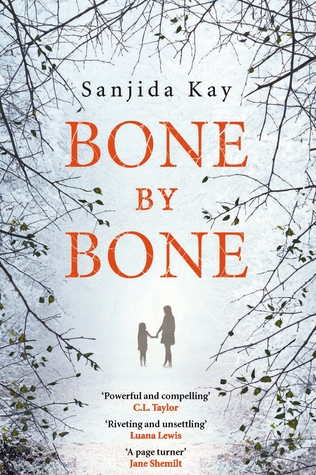 Bone by Bone by Sanjida Kay
Published: 3rd March 2016
Available in Paperback and on Kindle
How far would you go to protect your child? When her daughter is bullied, Laura makes a terrible mistake...
Laura loves her daughter more than anything in the world.
But nine-year-old daughter Autumn is being bullied. Laura feels helpless.
When Autumn fails to return home from school one day, Laura goes looking for her. She finds a crowd of older children taunting her little girl.
In the heat of the moment, Laura makes a terrible choice. A choice that will have devastating consequences for her and her daughter...
Bone by Bone by Sanjida Kay is a very intense and gripping read looks at the effects of bullying which will leave you questioning your every action and just how far you will go to protect your children.
Laura and her daughter Autumn have recently moved to Bristol after Laura's divorce. Laura is getting on with trying to build a new life for herself and her daughter. Autumn however is struggling with her new school and has become the target of bullying from an older boy. When Laura finds herself face to face with her daughter's bully she tries to help but in that split second decision something goes very wrong, something which Laura knows is wrong and something which will come back to haunt her and her daughter.
This book is written from both Laura and Autumn's perspectives and what really struck was how different actions were perceived between mother and daughter. I was struck by how much Laura loves Autumn and how far she will go to make her happy. However, Laura's somewhat irrational decisions don't always work out in Autumn's best interest as we can see from Autumn's narrative. I found this dual narrative added to the intensity of the book as you can see Laura becomes lost with how to help her daughter and poor little Autumn begins to dread life outside the family home.
One thing this book highlights is just how disturbing and intrusive cyber bullying can be and how defenceless it can make us feel. I really felt for Laura as the bullying every aspect of her life and how helpless she is left, as she has no clue how to regain control, it really was quite scary to read.
I found Bone to Bone to be a disturbing but addictive read and perhaps one I wouldn't read if I knew I was alone in the house. All the way through I found the intensity deepened and I couldn't see how it was going to end and when I did I was shocked. I didn't expect it to end how it did and am a little disappointed that everything was explained so simply. This doesn't mean I didn't enjoy the book, I did very much, it's probably one of the most intense books I've read and scary because it could all so easily happen to anyone.
For a debut novel I think Sanjida Kay has written a novel which explores the effects of bullying in an intense and disturbing way. It's a novel which will make you question just how much you can trust someone and just far you'll go to protect those you love.
Thank you so much to the publishers Corvus for the review copy in exchange for my honest opinions. I'd like to rate Bone by Bone by Sanjida Kay 4 out 5.