So its March and what do we get? Snow!! I'm not a fan of snow as I'm just longing for some sunshine and more spring flowers in my garden. So anyway here are my top three picks for this week: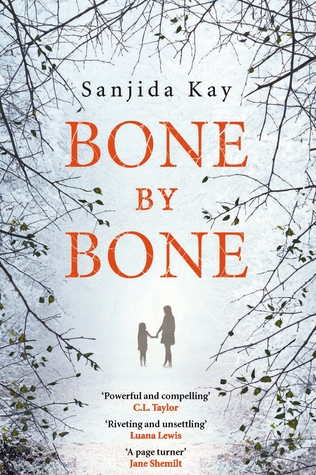 Bone by Bone by Sanjida Kay
Published: 3rd March 2016
Publisher: Corvus
Pages: 328
Available in Paperback and on Kindle
How far would you go to protect your child? When her daughter is bullied, Laura makes a terrible mistake...

Laura loves her daughter more than anything in the world.

But nine-year-old daughter Autumn is being bullied. Laura feels helpless.

When Autumn fails to return home from school one day, Laura goes looking for her. She finds a crowd of older children taunting her little girl.

In the heat of the moment, Laura makes a terrible choice. A choice that will have devastating consequences for her and her daughter...
I found this such a compelling read and one which had me thinking all the way through what exactly is going to happen next and then gasping at what actually does happen. It's a book you wont be able to put down and one where you will definitely question some of your actions. My review is coming tomorrow.
What She Never Told Me by Kate McQuaile
Published: 3rd March 2016
Publisher: Quercus
Pages: 336
Available in paperback and on Kindle
'I talked to my mother the night she died, losing myself in memories of when we were happiest together. But I held one memory back, and it surfaces now, unbidden. I see a green postbox and a small hand stretching up to its oblong mouth. I am never sure whether that small hand is mine. But if not mine, whose?'

Louise Redmond left Ireland for London before she was twenty. Now, more than two decades later, her heart already breaking from a failing marriage, she is summoned home. Her mother is on her deathbed, and it is Louise's last chance to learn the whereabouts of a father she never knew.

Stubborn to the end, Marjorie refuses to fill in the pieces of her daughter's fragmented past. Then Louise unexpectedly finds a lead. A man called David Prescott . . . but is he really the father she's been trying to find? And who is the mysterious little girl who appears so often in her dreams? As each new piece of the puzzle leads to another question, Louise begins to suspect that the memories she most treasures could be a delicate web of lies.
This sounds really intriguing and as its written in the first person I think it will be very gripping and intense. One I'm definitely looking forward to reading.
The Plumberry School of Comfort Food: Food, Glorious Food
by Cathy Bramley
Published: 3rd March 2016
Publisher: Transworld Digital
Available on Kindle
Verity Bloom hasn't been interested in cooking anything more complicated than the perfect fish finger sandwich, ever since she lost her best friend and baking companion two years ago.

But an opportunity to help a friend is about to land her right back in the heart of the kitchen! The Plumberry School of Comfort Food is due to open in a few weeks' time and has rather gone off the boil. It needs the kind of great ideas that only Verity could cook up . . .

But as Verity tries to balance stirring up publicity, keeping their top chef sweet and soothing her aching heart, will her move to Plumberry prove to be a sheer delight . . . or a recipe for disaster?
Cathy Bramley fans will be pleased to know that today the first part of her new series The Plumberry School of Comfort Food is launched. It sounds just as yummy as her previous books. I'm longing to read a book by Cathy Bramley but I'll probably wait until the full book of this is released later in the year as I'm not a huge fan of serial novels.
So that's my top three this week, which one is your favourite? Are there any other books you've got your eye on this week? I'd love for you to share your thoughts.