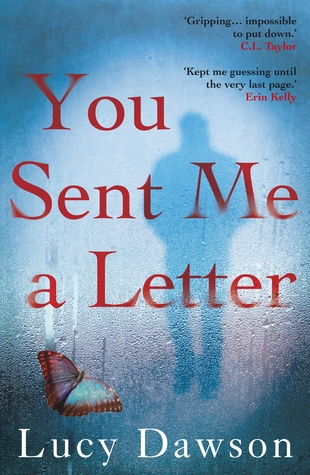 You Sent Me a Letter by Lucy Dawson
Published: 3rd March 2016
Available in Paperback and on Kindle
What if your worst enemy found out your darkest secret?

At 2 a.m. on the morning of her 40th birthday, Sophie wakes to find an intruder in her bedroom. The intruder hands Sophie a letter and issues a threat: open the letter at her party that evening, in front of family and friends, at exactly 8 p.m., or those she loves will be in grave danger.

What can the letter possibly contain?

This will be no ordinary party; Sophie is not the only person keeping a secret about the evening ahead. When the clock strikes eight, the course of several people's lives will be altered forever.
You Sent Me a Letter by Lucy Dawson was one of the most addictive books I've read in a long time. From the very first page I was hooked and as the story unfolded I just had to carry on reading. It's a good thing this book is quite short as nothing was going to get done until I'd finished it.
The book starts with Sophie awakening at 2.00 am on her fortieth birthday to find a man she's never met sat in her bedroom watching her. The man hands her a letter and tells her not to open it until 8.00pm that night at her party, in front of all her family and friends and more importantly not to tell anyone about him or the letter. He tells her he'll know and that he will harm her family if she does tell and then he leaves taking her mobile phone with him.
If this opening doesn't convince you to keep reading I'm not sure what will, as I was full of questions, who is this man? How did he get in her house? What is in the letter? Who sent it? I just had to keep reading to get some answers.
The majority of this book is set over the course of Sophie's birthday, which after the frightening start continues to be full of surprises and not all of them good. As the day progresses Sophie's anxiety and panic levels increase as she battles with keeping the letter a secret. This draws out the big question…is Sophie hiding something?
Throughout the day various friends and family fall under scrutiny from Sophie as "the letter sender" and this was very cleverly done as no-one particular stood out as the one, keeping me guessing until the very end of the book.
I loved read this book, it was addictive, chilling and full of twists which caused Sophie so much anxiety it's a wonder she didn't fall apart. I rate this book 5 out 5 and will definitely be reading more books from Lucy Dawson. I think fans of psychological thrillers will love this as it will leave you thinking wow, just wow!
Thank you so much to the publishers for sending an advanced copy to review and also for their great marketing campaign which made me want to read this book so much more.