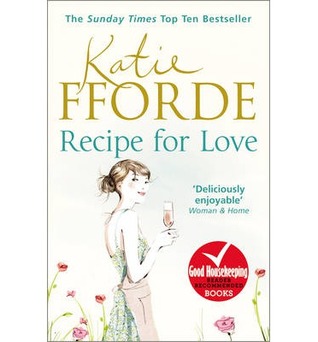 I'm ashamed to say this is the first book by Katie Fforde which I have read, cannot believe I missed out for so long. The Recipe for Love was an ideal book for me to read as it combines two of the things I love most reading and cooking.
Zoe Harper has won a place on a televised cookery competition which is the cross between Masterchef and The Great British Bake Off. The completion takes place at Somerby where Zoe begins to make friends with the owners, a heavily pregnant Fenella and her husband Rupert. As the competition continues Zoe's realises she's developing a crush on Gideon, one of the judges, which could land her in serious trouble.
Recipe for Love follows Zoe on her journey through the competition as she battles with the other competitors, helping out her new friends and her developing feelings for Gideon. I absolutely loved this book, it moves the story along at exactly the right pace to keep you wanting more and wondering what else is going to happen. The characters are all wonderful, my favourites been Lord and Lady Gainsborough as they were so utterly over the top aristocrats.
This is a perfect summer read and I would recommend it to anyone who just an easy read with great characters and some funny scenes.
Which book of Katie's do you suggest I read next?