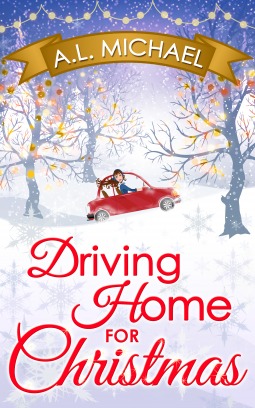 Driving Home For Christmas by A L Michael
Published: 28th October 2014
Megan McAllister is home for Christmas…whether she likes it or not!

Christmas is about family…and for Megan family means two people: herself, and her daughter Skye. It doesn't mean her parents who, ten years ago, saw her pregnancy as anything but a miracle. And it definitely doesn't include her irresistible ex-boyfriend Lucas Bright.

So 'Driving Home for Christmas' has never been top of Megan's festive playlist. But for Skye, she knows she needs to spend the holiday season with the people she's left behind. She can do this. Even if the thought of meeting Lucas under the mistletoe still has her feeling like she's drunk one-too-many Snowballs!

But somewhere between the hanging of stockings and the crackle of wrapping paper, Christmas starts to sparkle. And Megan begins to wonder if family could be bigger than her and Skye after all…
Megan McAllister has been living with her estranged Aunt Anna and her lodger Jeremy ever since she ran away from her family when they found out she was pregnant.

Now ten years on she's been persuaded to head home for Christmas and make amends with her family.

Arriving back home with daughter Skye evokes all kinds of memories for Megan and as Christmas day comes closer family secrets and old feelings which have been hidden for years start to surface, but will they bring this family close again.
After reading the blurb for this book I knew I had to read it, any book in which the characters have some kind of mystery in their past draws me in and A L Michael has done this brilliantly. It's the type of story that slowly unravels and gives the reader questions:

Why did Megan leave? Why hasn't she been back? How did she end up living with Anna? And probably the question we all want to know the answer to who is Skye's father?
Luckily for us as we keep reading we find out the answers to these questions and also a couple of little surprises, some which I totally wasn't expecting and some which you could guess.

This is done really well through the use of flashbacks in the narrative which help us build up a picture of Megan as a teenager and show the strained relationship she had back then with her mother.

These were slightly confusing to me at first as the flashbacks do chop and change years between 2001 and 2004 but once I had read a few chapters and had more knowledge of Megan I found they really helped build up a picture of Megan and what led her to run away.
A L Michael has created some really great characters in this book, Skye has to be my favourite, what a brilliant little girl she is, so intuitive and clever but not in that annoying know it all way that some kids can be.

She is hoping to be detective when she is older and I could just imagine her hiding under tables and writing down notes in a little book.

I loved the way she seemed to weigh people up and instantly get their measure and then just carried on with whatever she was doing. I think is she was my daughter I would be very proud of her.
I wasn't sure about Megan; I did feel that she brought a lot of the problems with her mother on herself by not opening up to her at the time. I did like the way that she didn't let having a baby so young stand in the way of her dreams and she was able to find a fulfilling career. The thing that stood out the most about Megan was that she was so focused on Skye's happiness and making sure she was loved that I felt Megan herself might be a little lonely, so when she finally let her family into her daughter's life I was hoping Megan would put herself first just once.

I loved Lucas, just the image of him with a Where's Wally scarf round his neck was enough to melt my heart, he just seemed such a lovely guy and although I understand why Megan let him go when she was younger I don't think I would have been able to.
Driving Home for Christmas is a wonderful story full of Christmas spirit which helps to bring a family closer once again. I laughed, I cried and I was left with that warm fuzzy feeling you get when you read something wonderful.

Add this to your Christmas reading shelf and you won't regret it.