This week the Christmas books are starting to hit the shops which I is great for me because I LOVE Christmas so like to get into the festive spirit as soon as possible. So here are my favourite releases for this week: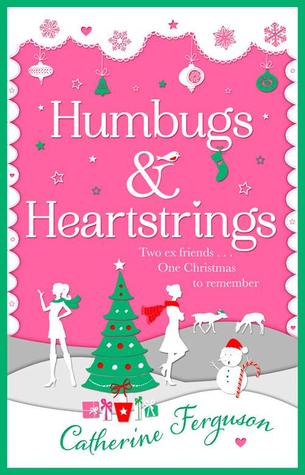 Humbugs and Heartstrings by Catherine Ferguson
Released: 2nd October 2014
This is a tale about love and friendships, complete with a sprinkling of Christmas magic. Perfect for fans of Jenny Colgan and Lucy Diamond.

Two ex-friends. One Christmas to remember …

Bobbie's boss Carol is a real misery-guts, dedicated to making the lives of everyone around her unhappy in pursuit of every last penny. What makes it worse is that the two women have history: once they were best friends.

When handsome hotelier Charlie steps into the frame the two women go to battle as one sees a romantic future ahead and the other a possible lifeboat for her business. With wonderful warmth and humour, and the odd mince pie fight, the women are forced to confront their shared past, the turbulent present and, most importantly, the potential of the future.
This looks like a really great debut from Catherine Ferguson and as I'm a huge Jenny Colgan fan I'm sure I will love it.
The Little Shop of Hopes and Dreams by Fiona Harper
Released: 3rd October 2014
Publisher: Harlequin/Mills and Boon
Available in Paperback and on Kindle
Nicole Harrison is planning the proposal of the century. Too bad its not her own…
Nicole, a born organiser and true romantic, has created her dream job when she sets up the Hopes & Dreams proposal agency – staging YouTube worthy proposals…until she's hired to plan a proposal by gorgeous photographer Alex Black's girlfriend.

Alex is the New Year's kiss that Nicole hasn't been able to forget – and now she's planning his wedding to someone else! But if she lets herself fall for Alex's charms, her reputation and business will be ruined before it's even got off the ground! Suddenly the girl whose always prepared is at a loss…and falling head over heels
Weddings are probably my second favourite thing to read about so a book with a proposal planner in is bound to interest me.
Maybe this Christmas by Sarah Morgan
Published: 3rd October 2014
Publisher: Harlequin/ Mills and Boon
Available in Paperback and on Kindle
This winter, ex-skiing champion, reformed heartbreaker and single dad Tyler O'Neil has only one mission—making sure his daughter, Jess, has the best Christmas ever. The fact that his best friend, Brenna, is also temporarily moving into his chalet at the overbooked Snow Crystal resort is a delicious distraction he's simply going to have to ignore. Theirs is the one relationship he's never ruined, and he's not about to start now.

Ski pro Brenna Daniels knows all about the perils of unrequited love—she's been in love with Tyler for years. But living with him is absolute torture…how can she concentrate on being his friend when he's sleeping in the room next door? Then when Tyler kisses Brenna, suddenly the relationship she's always dreamed of feels so close she could almost touch it. Could this be the Christmas her dreams of a happy-ever-after finally come true?
This is the third book in the Snow Crystal Trilogy following Sleigh Bells in the Snow and Suddenly Last Summer. I've not read any of these but they all look like books I would enjoy and I'm sure readers are waiting to see how Tyler and Brenna's story ends.
The French for Christmas by Fiona Valpy
Released: 3rd October 2014
Available in Paperback and on Kindle
A year to forget. The perfect escape. And a little Christmas magic... Touching, uplifting, and filled with delicious French cooking, The French for Christmas is the perfect Christmas treat. Evie used to LOVE Christmas, but this year she can't wait for the tinsel and presents to be a distant memory. When her best friends offer the use of their cottage in the beautiful French countryside, Evie jumps at the chance. With her soon-to-be-ex-husband, celebrity chef Will Brooke, plastered over the news with his latest 'love interest', leaving the country seems like the perfect plan. Armed with her French grandmother's tattered notebook of recipes, Evie is determined to ignore Christmas altogether and bake herself back to happiness. And when Evie meets her next-door neighbour - the très gorgeous doctor Didier she finds a very willing taste-tester. But is it possible that he could be interested in more than just her Tarte Tatin? With snow falling, a special Réveillon dinner and a little Christmas magic in the air, could Didier even be the one to thaw Evie's heart? Or will a visit from the ghost of Christmas past change everything?
I've not heard of Fiona Valpy before I saw this book floating around on Twitter, it sounds similar to Trisha Ashley's Twelve Days of Christmas where the main character wants to avoid Christmas and just cook, I loved that book so hoping I will enjoy this one just as much.
The Love List by Eve Devon
Released: 2nd October 2014
Publisher: Harper Impulse
Falling in love is just not on Nora King's To Do List…

Neither is accidentally super-gluing her shoe to her hand right before the biggest presentation of her life!

With all the hard work she'd put into securing the family business after her father's death, Nora has no choice but to accept help from a knight in shining armour.

Disaster relief worker Ethan Love is still haunted by his last deployment, and desperate for distraction. He's in town to ask Nora for a major favour, and swooping in to save her presentation is a sure way to get her on side.

As Ethan sticks around and helps Nora through her grief, her barriers tumble down…but will she dare to swap her To Do lists for a How to Fall in Love list?
My final pick this week is not Christmassy at all but does look like a fun read and one which I'm hoping to start this afternoon.