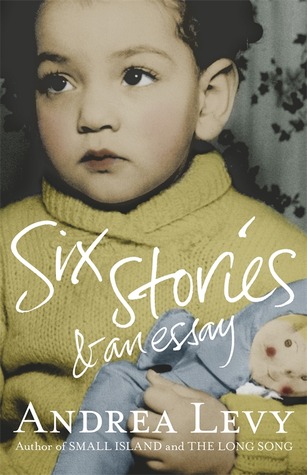 Six Stories and An Essay by Andrea Levy
Published: 23rd October 2014
Available on Kindle and in Hardback
Andrea Levy, author of the Man Booker shortlisted novel THE LONG SONG and the prize-winning, million-copy bestseller SMALL ISLAND, draws together a remarkable collection of short stories from across her writing career, which began twenty years ago with the publication of her first novel, the semi-autobiographical EVERY LIGHT IN THE HOUSE BURNIN'.

"None of my books is just about race," Levy has said. "They're about people and history." Her novels have triumphantly given voice to the people and stories that might have slipped through the cracks in history. From Jamaican slave society in the nineteenth century, through post-war immigration into Britain, to the children of migrants growing up in '60s London, her books are acclaimed for skilful storytelling and vivid characters. And her unique voice, unflinching but filled with humour, compassion and wisdom, has made her one of the most significant and exciting contemporary authors.

This collection opens with an essay about how writing has helped Andrea Levy to explore and understand her heritage. She explains the context of each piece within the chronology of her career and finishes with a new story, written to mark the centenary of the outbreak of the Great War in 1914. As with her novels, these stories are at once moving and honest, deft and humane, filled with insight, anger at injustice and her trademark lightness of touch.
This is not normally the type of book that I would read; I much prefer longer books where you really get to know the characters. However I have been interested in reading something by Andrea Levy for some time, so this seemed the ideal book to try.
I really enjoyed Andrea Levy's writing style its light and flows really well, the stories were written in such a way that you could imagine her telling you the story herself. I was a little frustrated that as soon as the stories began they were over and we didn't get chance to find out much about the characters and their situations.

Each story did have a point to make and I liked that, maybe if they had been longer the reasons behind them would have been lost. The stories were moving and humorous, my favourite story was "That Polite Way That English People Have" The essay at the beginning gave an interesting insight into Andrea's life in 1960s London and her reasons for beginning to write.
I would recommend this book if you are a fan of Andrea Levy's work or who want to have a taster before you read one of her longer novels.

For me it was lacking in the character development which comes with longer stories but I did find the writing style enjoyable so will probably read one of her longer works in the future.
Thank you to Georgina at Headline for sending me a copy to review. I rate this book 3/5